We are pleased to announce that we have again received top ranking in Chambers & Partners 2020. Please see below for the comments made about our team.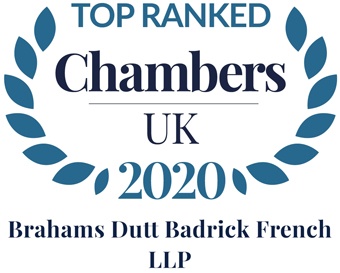 What the team is known for
Renowned boutique employment law firm that represents senior executives and individuals from financial service groups in all manner of disputes and issues. Also acts for doctors, lawyers and consultants. Significant experience of handling high-profile cases, with expertise in restrictive covenants and severance issues as well as in relation to whistle-blowing and sex and race-based discrimination claims. In addition to its work for employees, the team continues to build out its work for employers, with notable experience advising other law firms on contentious employment matters.
Strengths
One impressed client highlights the team's "superb knowledge of employment law combined with a passion and empathy for the client," adding: "They are simply head and shoulders above the rest."
Additional sources describe the team as "hardworking, commercially astute, and totally committed to the client."
"They are an outstanding firm who demonstrate professionalism to the highest degree and offer extremely good service," a further interviewee notes.
Notable practitioners
Band 2
Arpita Dutt is frequently relied upon by senior employees to litigate high-stakes employment disputes involving whistle-blowing, discrimination and disciplinary actions, with a particular emphasis on the healthcare sector. Sources describe her as "a very knowledgeable lawyer who is loved by clients and very good at putting people at ease."
Band 1
Managing partner Gareth Brahams is noted for his expertise acting for senior-level employees in significant disputes involving whistle-blowing, discrimination and restrictive covenant matters, among others. One source describes him as "an extremely intelligent and capable lawyer" and highlights his "superb practical knowledge of the law and ability to apply it masterfully to the specifics of a case."
Recognised Practitioner
Ruth Gamble