Key points for employers in the UK Government's COVID-19 Recovery Strategy
 Key Points for Employers in the UK Government's COVID-19 Recovery Strategy 
On 11 May 2020 the Government published "Our Plan to Rebuild: the UK Government's COVID-19 Recovery Strategy" (the Recovery Strategy). The Recovery Strategy sets out the Government's roadmap for a phased exit from the lockdown restrictions in England. The devolved administrations in Scotland, Wales and Northern Ireland will make their own assessments about lifting lockdown measures. Of particular importance to employers is the timetable for getting certain workers back to work and the health and safety measures that must be adopted. 
Please click on information below to download the PDF: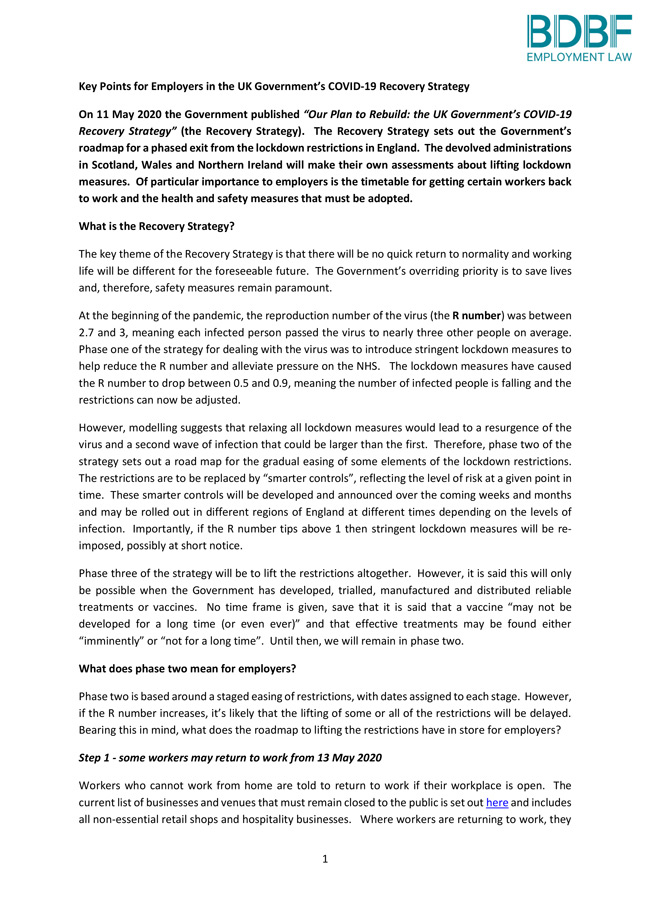 BDBF is currently advising many employers and employees on the challenges presented by the coronavirus. If you or your business needs advice on furlough or other coronavirus-related matter please contact Amanda Steadman (amandasteadman@bdbf.co.uk) or your usual BDBF contact.