Employment Law News
Samira Ahmed wins BBC equal pay case – 10th January 2020
News TV host Samira Ahmed win her equal pay case against the BBC. Samira claimed that she had been underpaid for presenting Newswatch when compared to the pay received by Jeremy Vine for a similar BBC show, Points of View. Ahmed received £465 per episode for hosting Newswatch, while Vine received £3,000 per episode. Samira claimed she was owed almost £700,000 in back pay.
It was ruled unanimously that the BBC failed to prove the difference in their pay "because of a material factor which did not involve subjecting the claimant to sex discrimination".
Comments from Polly Rodway, Partner:
"In a strong judgment, the Tribunal has concluded that the BBC has fallen foul of the principle of equal pay for men and women.  Specifically, that Ahmed was paid less for doing the same or broadly similar work to Jeremy Vine (comparing their work on Newswatch and Points of View) in circumstances where the BBC could not show that there was a neutral reason explaining the difference."
"The Tribunal was clearly satisfied that Ahmed's work was 'like' (i.e. the same or broadly similar to) Jeremy Vine's work."
"The burden therefore shifted to the BBC to show that the difference in their pay was for a reason other than gender (this is known as the material factor defence).  The Tribunal was unconvinced (and seemingly unimpressed) by the BBC's arguments in this regard.  Ahmed's claim was therefore successful."
"In seeking to justify the pay difference, the BBC relied on a number of points including the higher profile of Points of View (as compared to Newswatch), and the higher public profile of Jeremy Vine.  The Tribunal dismissed both noting that the BBC had not put forward any evidence to show that the people who decided about Ahmed and Vine's pay had taken this into account.  It could not therefore explain the reason for the difference. In fact in the case of audience recognition of Vine, the Tribunal scathingly notes that the BBC appeared to contradict itself by relying on Vine's public profile figures which post-dated Vine's pay determination."
"This is strong and positive judgment.  Ahmed's success in establishing her work was 'like' that of Jeremy Vine's cut out a large swathe of analysis that would have been required had she failed on this point, and had to instead convince the tribunal that their work was of equal value.  The BBC's failure to adduce evidence to explain the gender neutral reason for the difference in pay was clearly relevant, and the Tribunal appears to disapprove of their approach noting that speculation by other witnesses who were not involved in setting rates of pay does not discharge this burden."
"This is a positive outcome for women fighting for equality with male counterparts."
The Guardian featured the story, please see the story here: https://www.theguardian.com/media/2020/jan/10/samira-ahmed-wins-equal-pay-claim-against-bbc
Polly Rodway, a partner at the law firm BDBF, said: "There is a big floodgates argument here, so the ramifications of the judgment for the BBC will be significant as lots of other claimants will now pursue the BBC and, economically, they could end up paying a lot more in light of this judgment.
"We are talking about potentially many more claimants … I am not sure I can put a number on it but the costs could be millions."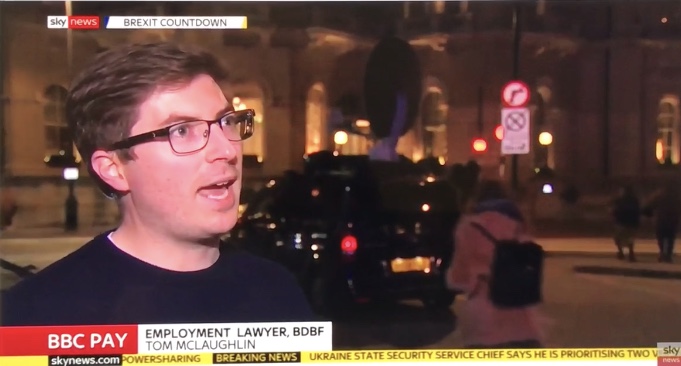 BDBF employment Lawyer, Tom McLaughlin appears on Sky News commenting on Samira Ahmed tribunal.
If you would like to discuss how we can help you, please contact Polly Rodway, Tom McLaughlin or our BDBF team.